Garden Lighting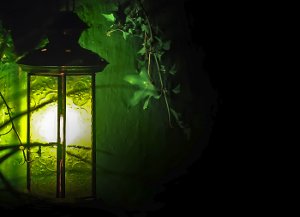 Garden lighting has multiple functions. Its primary function is, of course, to illuminate your garden and enable you to enjoy its beauty during the night but it can also be used as a decorative feature, to improve visibility around your house during the night and even improve your home's safety because a house with a good exterior lighting drives away most burglars.
There are many ways to lighten your garden during the night as well as many different types of outdoor lighting systems. But considering the continuously rising prices of electricity, you probably do not want to increase your electrical bills just to be able to have a nice view of your garden during the night. For that reason it is a good idea to consider garden solar lamps. Like their name suggests, they are powered by built-in batteries which are charged by the sun during the day and emit light during the night. As a result, your electrical bills will stay the same even if you lighten a few acre garden. Another great advantage of these lamps is the fact that no electrical current is needed which means that you will not need a pricey electrician to run the wires around your garden.
Garden solar lamps will illuminate your garden for free but they are not inexpensive, especially if you want to lighten a larger area. However, you are highly recommended to watch for quality because not all garden solar lamps are the same. Some people complain that they provide poor light or/and that they shut off too soon. So before you buy any larger amount of solar lamps for your garden, inform yourself about different types of these lamps and which ones provide the best value for your money. If quality garden solar lamps would require too big investment at once, consider illuminating your garden gradually rather than completing the garden lighting job on the expense of quality lamps.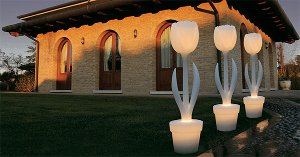 The last but not the least important is the way you lighten your garden. Obviously, you will have to do it during the day but prepare yourself for several night trips to you garden to determine if and where improvements are necessary. To make the lighting job a little bit easier and achieve the perfect garden illumination a little bit faster, it may be worth to keep in mind different lighting methods. Hiding the source of light is one of the most popular garden lighting methods as it creates dramatic effects and emphasizes a particular plant, garden statue, a fountain or other garden feature. This method literally hides the lamp behind a shrub or a rock for instance. Background lighting is another popular garden lighting method as it creates a sort of mystical look and outlines the silhouettes of the plant or garden accessory lighted from behind. Placing the lights in a tall grass or a shrub will give you a shadowy look which is usually avoided although it can create a visually pleasing and kind of magical look. There are a number of ways to lighten your garden and they do not necessarily exclude one another, especially when lighting a larger garden so feel free to experiment. But generally, it is recommendable to avoid too heavy lighting because too much light can create an artificial look.