Garden Sculptures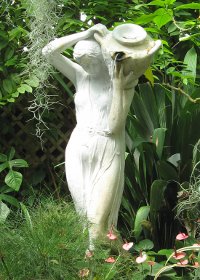 A beautiful garden is highly decorative by itself but many gardeners further enhance their gardens' beauty with various garden accessories, most often garden sculptures which are either used as a focal point of the garden or to complement its overall style, or both. It is really amazing what a difference a carefully selected garden accessory such as a garden sculpture can make in the overall appearance and aesthetic appeal of the garden.
Garden sculptures are nothing new and have been used for decorative purposes for thousands of years although they were not seen as often in modern gardens until recently. A garden sculpture regardless if it is a statue, a birdbath, a fountain or any other piece of art can give a garden a whole new meaning and transform it into your own private paradise. However, several things should be paid attention to when searching for the perfect sculpture for your garden and material from which it is made is just as important as an aesthetically appealing look. Since a garden sculpture is intended to be left outdoors, it should be made from material which can withstand the unfavourable outdoor conditions or at least be properly protected in order to keep it beautiful and achieve the desired effect.
Stone garden sculptures are by far the most popular type of these garden accessories as stone is naturally resistant to the effects of the weather and lasts virtually forever. It requires almost no maintenance and care to keep it beautiful and over the years, most stone garden sculptures look even more beautiful as aged look of the stone gives the sculpture a unique aesthetic appeal. Other popular materials for garden sculptures include wood and metal which, however, have to be protected from the outdoor conditions by water sealant and anticorrosion coating, respectively, to keep them beautiful and extend their durability.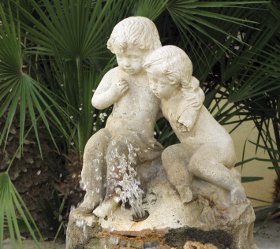 Style of the garden sculpture, of course, plays the key role in its effect in the garden. Classical sculptures tend to be particularly popular due to their traditional use for garden decor but other styles and designs are available as well. Which one to choose depends on your personal preferences but it is a good idea to pay attention to your home's style and other garden accessories if having any because a garden sculpture which matches your home's style and the rest of the garden's decor will create a sense of harmony throughout your property and make your garden an extension of your home.
The last but not the least important is the selection of the right location for the garden sculpture because even the most beautiful sculpture can ruin the aesthetic appeal of your garden if you put it on the wrong place. Remember that a garden sculpture can be used as a focal point of the garden but it can also be used to complement its overall style, depending on the existing garden decor and features. Take time to think through what you want to achieve before you put the sculpture on its final location.